Clean Energy Career Pathways Catalog
Over 300 job descriptions for technical and specialty jobs in clean energy
Created for job-seekers, hiring managers, the existing workforce, and the public, ACP's Clean Energy Career Pathways Catalog presents over 300 job descriptions for technical and specialty jobs within the clean energy industry.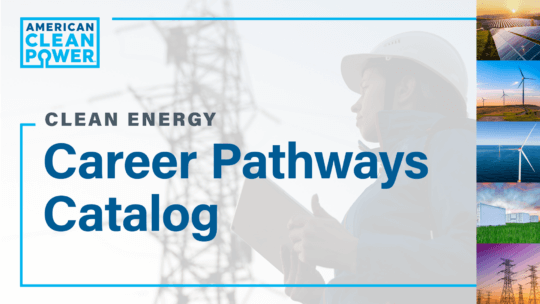 This catalog shows the upward mobility and opportunities that exist within the industry, alongside highlighting the skills and requirements necessary to work in these positions. The aim is to provide a better understanding of how existing transferrable skills could be applied to clean energy jobs or what a career progression within the workforce could look like.
This massive effort is meant to provide workers in other energy industries, veterans, and workers in underrepresented communities a better idea of the jobs available in clean energy, as well as support the industry with recruiting and retention.
If you have questions about the catalog, please email workforcedev@cleanpower.org.