Clean Energy Investing In America | Report
---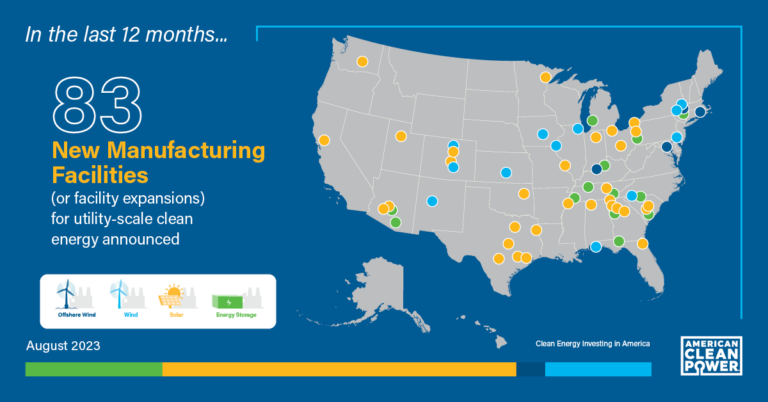 Eight Years' Worth of Clean Energy Investments Announced in 12 Months
Visit the interactive website, read the press release, view an informational virtual event, and download the new report below.  
As of July 31, 2023, over $270 billion in capital investment has been announced for utility-scale clean energy projects and manufacturing facilities since federal clean energy incentives were signed into law. This is equivalent to eight years' worth of American clean energy investment, surpassing total investment into U.S. clean power projects commissioned between 2015 – 2022.
The new Clean Energy Investing in America report details several other landmark achievements for the industry, including announcements of 83 new or expanded utility-scale clean energy manufacturing facilities, bringing with them an expected nearly 30,000 new American jobs.
Alongside announcements of massive investment, the report details announcements of nearly $4.5 billion in savings for over 24 million utility customers.
And should currently announced manufacturing facilities reach operation, ACP estimates a nearly ninefold increase in solar module production and a more than fifteenfold increase in grid-scale battery storage, along with significant increases in production output for solar cells, polysilicon, ingots and wafers, blades, towers, and nacelles.
Find the printable one-pager of the report's findings here.