Clean Power Quarterly Market Report | Q2 2023
---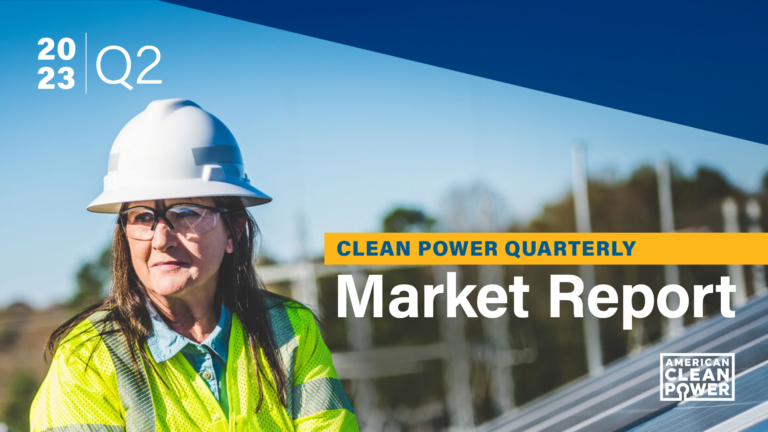 2023 Sees Second-Highest Q2 on Record for U.S. Clean Energy Installations
In the second quarter of 2023, the industry installed 5,218 megawatts (MW) of utility-scale clean power capacity, representing enough clean generation to power nearly 1 million American homes and making Q2 2023 the second-highest second quarter for clean power installations, according to the Q2 2023 Clean Power Quarterly Market Report.
Throughout the second quarter of 2023, clean energy developers commissioned 105 clean power projects across 38 states. Solar accounted for over 50% of clean power capacity installed, with storage accounting for nearly 30%. The increase in battery storage installations from the second quarter of 2022 was notable – the segment experienced 32% growth.
Though it is still too early to observe the effects of last year's unprecedented federal incentives on clean power installations, their preliminary influence can be observed partially via the new-build pipeline which encompasses 145,592 MW of clean power potential, representing both projects currently under construction and those in advanced development stages. Compared to the same time last year, projects in the solar pipeline increased 16%, with solar now accounting for 59% of America's entire clean power project pipeline. The battery storage project pipeline grew an astonishing 45%, now composing 15% of all clean power projects currently under development. Meanwhile, the wind power pipeline increased 8% quarter-over-quarter, showing its first positive change since the third quarter of 2021.
Our Clean Power Quarterly provides a snapshot view of the latest U.S. utility wind, solar, and battery storage industry activity and trends. The report includes second quarter installations, projects under construction and in advanced development, new power purchase agreements, OEM market share, project acquisition activity, offshore wind energy activity, and much, much more.
Read the Report